Do you like luxury? Do you like fast and almost furious?
Do you enjoy zero-emission performance? If your answer to these 3 questions are yes
Then, something is here and it is deliberately made for your convenience and pleasure!
It is the new and amazing 2019 Jaguar I-PACE.
It is filled with an aura of unrivaled luxury, spectacular performance in design specifications and an exciting range of electric driving.
Release Date
The all-new, all-electric Jaguar I-PACE is expected to arrive at at Barrett Jaguar in the second half of 2018.
Price
Jaguar's new all-electric 2019 I-Pace will carry a base price of $70,495 when it goes on sale later this year.
That number is before any government incentives, and it belittles one of its closest competitors, Tesla's $80,700 Model X 75D.
Design and Changes
It is skinny and this can help its efficiency.
The materials used for this 2019 Jaguar I-PACE are carefully chosen to provide a blend of natural finishes and high-tech surfaces, including deep piano black, satin wood grain and precision-machined aluminum.
The modern colour range for this 2019 Jaguar I-Pace stresses the idea of the space and lightness inside the automobile.
You inside of the I-Pace come with thinner performance seats that will help you to feel that this is a real sports car.
Video
Specs
It comes with a 90-kWh battery and a braking system that has the capacity to renew itself. Drivers should expect the drive range of this Jaguar I-PACE to be an impressive 240-mile driving range. Awesome!
Everything about this car is sweet to read and watch, when you equip it with a 100-kW DC fast charger, you can expect the Jaguar I-PACE to recharge up to 80 percent of the battery in about 45 minutes.
Did you know that, when you are in a rush, and need to get something going, the Jaguar I-PACE has an unrivaled capacity to add a whooping 62 miles of driving range when you charge it for only 15 minutes?
In case you are want optimum performance and you are thinking what the engine of the new 2019 Jaguar I-PACE has in store for you, here is it:
All for you is an all-wheel drive system, a 512 pound-feet of torque and 394 hp. This car can sprint from zero to 60 mph in just 4.5 seconds with a top speed of 124 mph.
The I-PACE adds an adaptive dynamics technology and an air suspension to provide premium ride, in addition to elite performance specs. Isn't this amazing?
Interior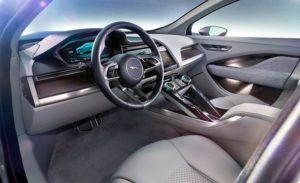 Everything about this magical car has gone through detailed research. Other manufacturers and car models for a long time will have an interior design standard to follow.
The state-of-the-art functionality of 2019 JAGUAR I-PACE is curiously combined with distinctive floating centre console that will blow your mind.
If you are looking for an engaging experience, you can get it from the dazzling touch screens and HD displays in this automobile.
Thinking of a spot in the care to safely keep your keys, bottles, phones or other little items? You are covered because there is 10.5-litre storage compartment in the automobile to do just that.
Interestingly, the trays under the rear seats also provide perfect storage for tablets and laptops.